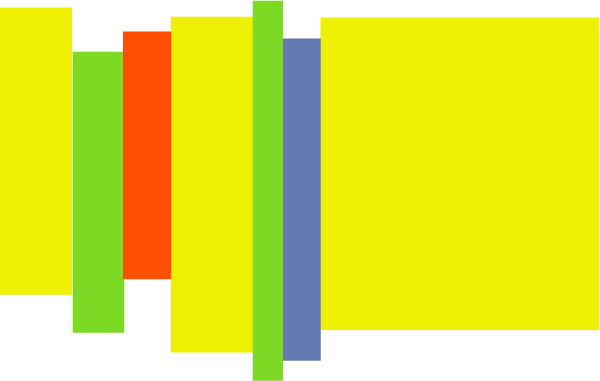 PERSONAL TRAINING
ANN ARBOR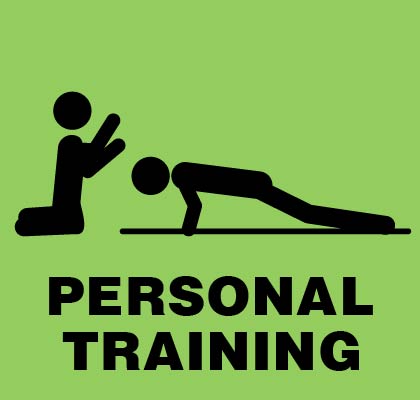 FREE CONSULTATION
Drop us your info.
We'll set it up.
It's that easy.
Click the button.
Looking for Ann Arbor Personal Trainers? Start with Better Living Fitness!
There are so many personal trainers in Ann Arbor that just choosing one can be a workout!
At Better Living Fitness – and the Better Living Fitness Center – we've made things easy for you.
Better Living has expert personal trainers in Ann Arbor:
Our staff are among the most educated and experienced exercise professionals you'll find anywhere.
Better Living founder and head trainer Mark Thiesmeyer, MS, MPH, RD has two related Masters degrees – one in the Science of Exercise Physiology, and one in Public Health Nutrition. Mark is also certified by the American Council on Exercise (ACE) and the IDEA Health and Fitness Association. Mark draws on his education, and his experience as a personal trainer for over a decade to assist both his clients and his staff of expert personal trainers to meet and exceed their goals.
Better Living's expert personal trainers are among the best-trained and educated in Ann Arbor:
Mallory Ghrist is certified by the International Sports Sciences Association (ISSA). Mallory has earned a Brown Belt in Judo, and has over 10 years' experience designing physical wellness programs.
Eduard Font holds a Bachelors of Science in Physical Therapy. Eduard is certified as a personal trainer by the American College of Sports Medicine (ACSM).
Office Manager and trainer Nina Carlson has earned a Bachelors of Exercise Science, and is also certified by the ACSM as an Exercise Physiologist.
 Josh Plonka holds a Bachelors in Exercise Science, and is also certified by ACE.
 Will Burchfield, who is certified by ACE, is also an experienced swimmer and martial arts instructor.
Better Living Fitness' Ann Arbor personal trainers work as a team – and our clients benefit from our collective expertise
Our staff meets every week to learn about the latest developments in exercise science and to discuss our clients' progress. When one of our clients has an injury, is having trouble meeting their health and fitness goals, or just wants to change things up to boost their results, the entire team works together to find the right solution.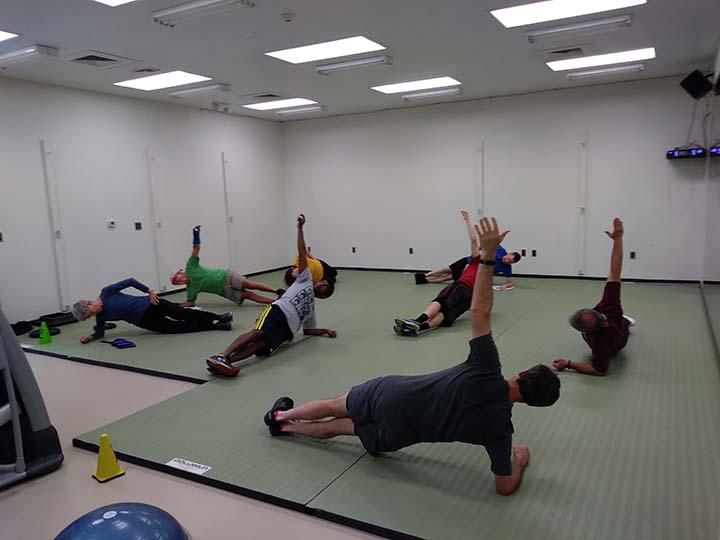 Our Ann Arbor Personal Trainers Focus on
Full-Body Fitness
Too many personal trainers and fitness centers alike focus on just one thing: weight loss. At Better Living Fitness, our expert personal trainers and programs stress all of the different factors that lead to optimum health and fitness. We focus on strength, flexibility, balance, nutrition, posture, stress management, and sleep.
To ensure the success of each client, we complete a free evaluation where we learn about the fitness goals and create a plan to meet them. We care about your success and we work hard together to help you become Full-Body Fit. This is part of what makes Better Living a premier destination for personal training in Ann Arbor.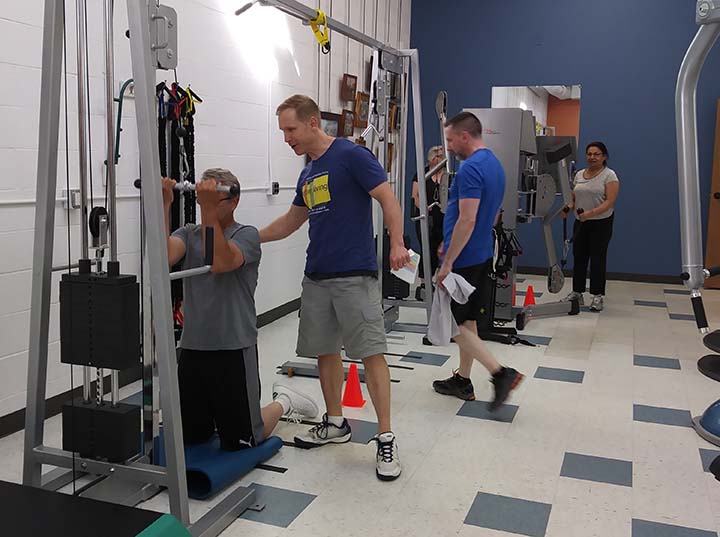 At Better Living Fitness, It's All About YOU
Every new client receives an initial free consultation so we can listen to what the client wants to accomplish:
We help high school and college athletes improve their athletic performance.
We prepared a 50-year-old client to take part in a scientific and artistic expedition to the Arctic.
Furthermore, we train 80-year-old clients who want to be able to take their stairs in their 90's.
Yes, we have clients who came to us to lose weight – but we also work with people who need to gain weight to achieve better health.
No matter why you're in the market for personal training, the easiest, safest way to achieve your goals is to work with someone who is highly trained, educated, and dedicated to you – not to a "one size fits all," pre-set program. That is exactly the level of care and attention you'll receive at Better Living.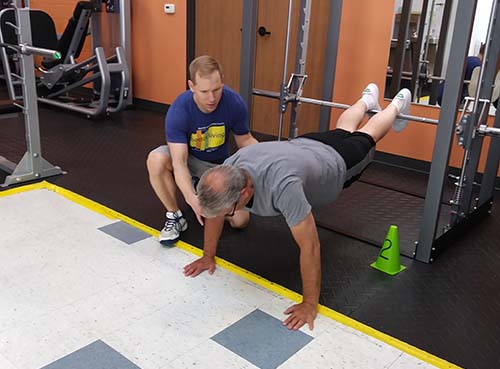 Better Form Leads to a Better Body – and Fewer Injuries
Thanks to our collective education and experience, Better Living's expert personal trainers understand one of the most important things about working out: proper form is essential. Not only that, but we also know that the best form for an exercise may be slightly different from one client to the next because of factors ranging from injuries to the fact that every people is a little different.
At Better Living, our Ann Arbor Personal Trainers create individualize routines that emphasize proper form for your body during every exercise. This emphasis on form means that you'll get the best possible results while also avoiding injuries that might otherwise get in the way of your goals.
We contribute to the "fitness" of our community
Every month, a portion of our income is donated to a local Ann Arbor-area charity that has been chosen by our team of Ann Arbor personal trainers. Not only that, but so far the Better Living Fitness Center has hosted two fundraising events for nonprofits that assist people right here at home – the Michigan chapter of Disabled American Veterans and the Pancreatic Cancer Action Network.
But we don't stop there. Yes, Better Living contributes to the wellbeing of the greater Ann Arbor area by supporting local nonprofits – and, we also contribute to our area's aesthetic appeal. Instead of blank walls, too many mirrors, or the standard motivational posters, Better Living personal training clients who work out at our Fitness Center are also treated to fine art by local artists. In other words, the Better Living Fitness Center isn't just a health and fitness facility. It's also an art gallery.
Better Living Fitness is the Better Choice – For Personal Training That Works (and More)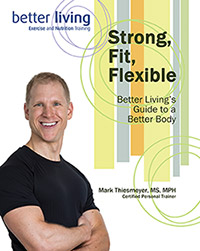 The Step-By-Step, Intelligent Approach to Your Best Body Ever
"Strong, Fit, Flexible" is a book written for members and clients of Better Living. Some fitness guides focus on strength training, while others work on flexibility. This book offers a balance of the two techniques. Our goal? To help build strong, supple muscles as a means of improving balance and eliminating (or at least reducing) the pain and discomfort of muscle/joint aches.
While this guide is NOT intended to replace personal training, it provides documentation of our expertise. Your training sessions are further customized to your body, to catch form mistakes, and challenge you with gentle nudges to go further.
Doing the exercises in the book "Strong, Fit, Flexible" will help train your muscles to become stronger and more balanced.
Locations: 
Better Living Fitness Center
834B Phoenix Dr. Ann Arbor, MI 48108
Meri Lou Murray Washtenaw Recreation Center
2960 Washtenaw Ave. Ann Arbor, MI 48104